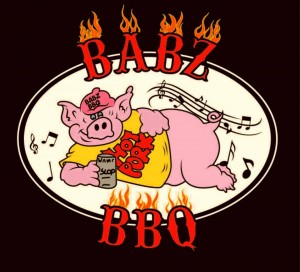 BABZ BBQ
Truck Description:
BABZ BBQ
SLOW SMOKED BBQ
Truck offerings:
BBQ
Pulled Pork
Smoked Chicken Wings
Smoked Drumsticks
Beef Pit Sandwiches
Mac Salad
Potato Salad
Beans
Reviews:
Babz BBQ is a family owned food truck located in Buffalo, New York run by Melissa Babiarz. Babiarz and her team have won numerous awards for their amazing food, such as 2nd place for Best Chili and 3rd for Best Rib Oink-Off at Oinktober Fest. Babz BBQ was also voted as one of the best ribs in Buffalo.
So what is so special about this place? Well, they smoke their meat overnight and make their own sauces. I know what you're thinking, "Aren't they a food truck? How can the smoke their meat on a truck?" Well, the answer is simple; they built their own truck with accommodations for smoking meat!
I got the brisket, which was delicious! When you take a bite, the meat falls apart nicely. You know your BBQ is nicely smoked when your meat is super soft, and it was! They really took their time to give you quality food. I also had a pulled pork sandwich. The pulled pork was drizzled in BBQ sauce. It was super simple but delicious!They use their own BBQ sauce, which tasted really awesome because it did not taste like ketchup. Don't get me wrong, I love ketchup, but I don't think BBQ sauce should taste like ketchup, or else we would just call it ketchup. This BBQ sauce was truly second to none!
So, would I recommend this place? The answer is a resounding yes! I can see how much the put into their food. Now I can see why their pull pork, ribs and wings always sell out. Not only was the food good, but their customer service was superb! Next time you are in the mood for some amazing BBQ and awesome people, check out Babz BBQ.
"Awesome food awesome service best sauce in the world! Two thumbs up!"
-Maria
"Love Missy's pulled pork and brisket. The BBQ wings are finger licking good."
-Joe