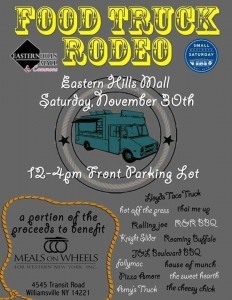 Saddle up your horse and ride into the city. 'Cuz look at all those food trucks, all shiny and pretty.
From noon until 4 p.m. on Nov. 30, 2013, 14 of your favorite food trucks will be riding up and down the Eastern Hills Mall parking lot in Williamsville, N.Y. A portion of the proceeds will benefit Meals on Wheels for Western New York.
Featured food trucks include Hot of the Press, Thai Me Up, Rolling Joe, R&R BBQ, Knight Slider, Roaming Buffalo, J&L Boulevard BBQ, Fallymac, House of Munch, the Sweet Hearth, Pizza Amore, the Cheesy Chick, Amy's Truck and Lloyd's Taco Truck.
Can you say, "What, What?"