As the temperatures continue to steadily drop here in Western New York, pay R&R BBQ a visit for some soul-warming comfort food. Owner Renee Allen opened R&R BBQ, Buffalo's second food truck, in December of 2010. Ever since, she's been delighting our community with some of her favorite dishes including Hickory Smoked Pulled Pork, Mac 'n Cheese and cornbread. She recruited her mother Wende to prepare baked goods, because what's a hearty meal without dessert?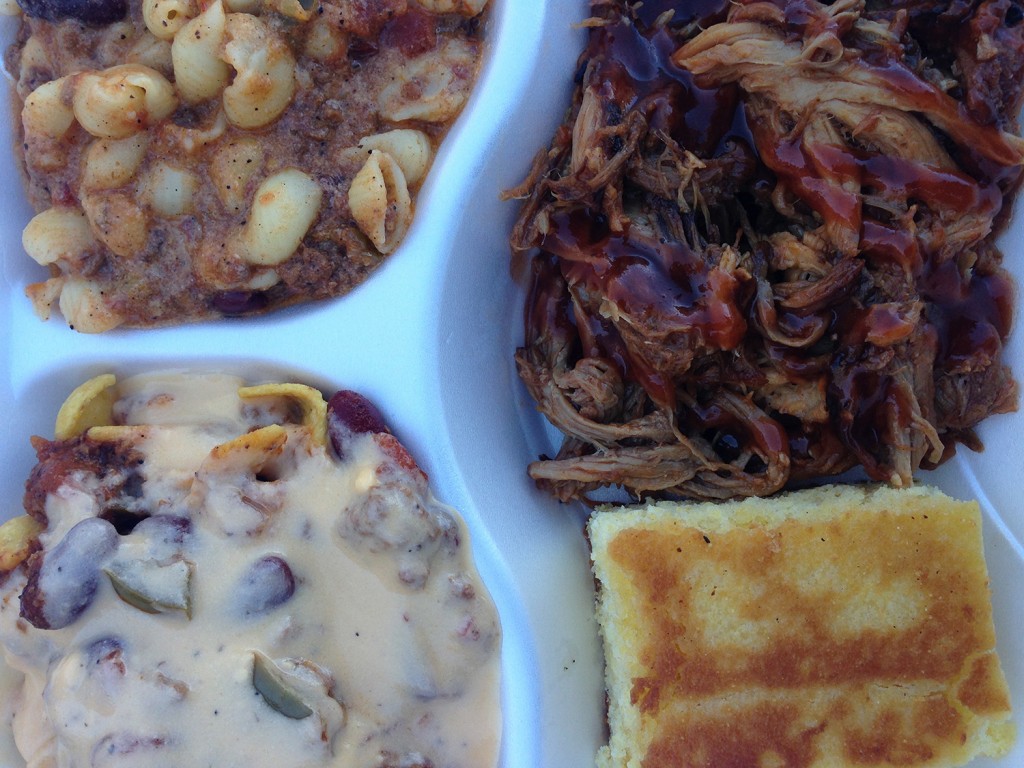 During my visit to Larkin Square on Monday morning, I enjoyed the BBQ Platter which gives you your choice of BBQ meat, two sides and a generous square of cornbread.
FROM TOP LEFT:
ChiliMac is a revelation, and I don't quite understand how I've gone this long without making it myself. Tender beef chili gets combined with a cheesy sauce and shell pasta. Impressively, R&R BBQ nails this side. Mac 'n Cheese is easily one of the most frequently overcooked foods when prepared in large quantities, but R&R's rendition is nothing short of delicious.
BOTTOM LEFT:
Frito Chili Nachos. I was a bit worried that these would prove to be too salty as they include Fritos, but the chili and cheese topping went perfectly with the chips. My only regret here is that I waited too long to finish these and they started to get soggy.
TOP RIGHT:
As someone who's spent a lot of time in the South, I've had my fair share of BBQ. This pulled pork was tender but not too soft, and just the right amount of sweet, tangy and slightly spicy sauce is mixed in before it's plated.
BOTTOM RIGHT:
A moist slice of cornbread makes the meal complete.
Grade: A
RECOMMENDATIONS:
While you're waiting for your order, fill up a couple of sauce cups with some of R&R's homemade BBQ sauces. My favorite: the Hot BBQ.
Don't leave without trying the pulled pork, whether you choose to enjoy it in platter or sandwich form.
After R&R BBQ became a hit in Western New York, Allen decided to start offering drop-off catering so that she could serve more guests and offer a wider variety of options. Later, in 2012, R&R BBQ opened up as a brick-and-mortar location in Elma, NY.