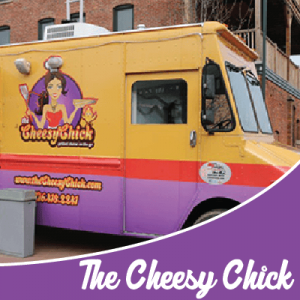 The Cheesy Chick
Truck Description:
We are a family run company with amazing gourmet twisted grilled cheese! We also do custom mac-n-cheese, weekly specials and catering.
Truck offerings:
Gourmet Twisted Grilled Cheese
Weekly Specials
Custom Mac-n-Cheese
Catering
Eastern Hills Mall Menu
WE ACCEPT CREDIT AND CASH OR PRE-ORDER
​NO TIME TO WAIT!? PUSH ME TO ORDER ONLINE NOW!
Come Find Us!